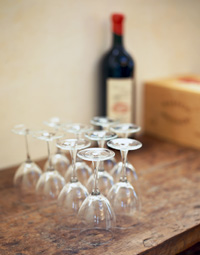 If you have more than a few bottles of wine, or if you just want to keep track of all the wine you have tried throughout the years, this is the site for you.

This site helps you build a personal online catalog of your wine:
Save detailed descriptions
Store tasting notes
Catalog the location of your wine, so you can find it
Search and list your wine cellars contents
Record the price, purchase date, and quantity.
For quick data entry, you can scan the UPC code off your wine and look it up in our growing wine database.
This is only the beginning. Future features will include sharing notes with your fellow wine connoisseurs, links to popular wine sites with ratings and reviews, and reminders for when your wine is at its peak. So try it out!
More than 327,000 bottles have been cataloged with BottleCount. Many people have over a 500 hundred bottles each.